THE V!VA 
DIFFERENCE
A company built on values.
Step into one of our retirement communities and you can feel the difference. You see smiles and hear laughter. The smell of freshly baked cookies fills the air. A positive energy surrounds you. People are busy, active, sharing their day and having fun. You realize the reason we're different is because everyone is celebrating today while in the comfort of our relaxing environment.
We've created this by putting our Orange Dot Values and friendships first, from old relationships with family and friends to new relationships with our Community and Team Members. We know that friends make the biggest difference in our lives. We hope to make a difference in yours.
Our 
TEAM.
Sure, our communities are cutting-edge and modern , but we're not really about bricks and mortar. We're about our people. Our Team is made up of real people who understand that sometimes a warm smile or a gentle hug can make a huge difference in someone's day. Our chefs, nurses and housekeepers may all have different roles to play in our communities, but they all share the same set of core values that make for a truly refreshing and caring approach to retirement living.
V!VA
FIT.
Stay fit, feel your best and most of all have fun – that's the VIVAfit way to approach every day.
One of the easiest and most enjoyable ways to stay active is through exercise and activities. Keeping fit also gives you the energy to get more out of every day, and improves your quality of life through better health and reduced stress.
VIVAfit focuses on four important components of senior fitness tailored to your enjoyment and comfort level:
Cardio
Balance
Flexibility
Strength
Personalized
FITNESS PROGRAMS.
Every VIVA Community Member receives a VIVAfit assessment by our highly qualified Lifestyle Managers.  Trained by leading senior fitness expert, Sandra Sheffield-Young, our Lifestyle Managers create custom programs designed around your individual fitness abilities and goals, then help monitor your progress.  To ensure you'll find just the right fitness mix, our wide range of activities and amenities include:
Programs
Stretch classes
Strengthening classes
AquaFit and other swim-based classes
And so much more!
Amenities
Heated indoor saltwater pool
VIVAfit strength room featuring easy-to-use Keiser fitness equipment designed specifically for older adults
VIVAfit stretch room for Yoga, Pilates and other flexibility classes such as VIVAfit Combo and VIVAfit Sit
Walking paths
Massage therapy room
Salon and more
VIVAlinks Golf Simulator powered by Golfzon*
*Only available in some locations.
Exercise 
PROGRAMS.
What do you like to do with your day to stay active and entertained? Let your Lifestyle Coordinator know and they'll make it happen. AquaFit classes, stretch and strengthening sessions, and even Nintendo Wii bowling and golf games have all become regular VIVAfit programs thanks to input from our Community Members.

Our VIVAfit program doesn't just celebrate individual tastes, but individual fitness goals and abilities. That's why we have a senior fitness expert, Sandra Sheffield-Young, on our Team. Sandra personally educates all our on-site Lifestyle Coordinators to design a customized training routine and help you set goals based on your personal abilities. They will also monitor your progress and recommend any adjustments when necessary. to provide the VIVAfit programs and customize all exercise routines and training sessions to help you set goals based on your personal abilities. They will also monitor your progress and recommend any adjustments when required.

As a member of the International Council of Active Aging, VIVA is committed to following the standard wellness guidelines for senior health and exercise.
Read More

Cardiovascular Exercises
For example: walking on our treadmill or out and about with our Walking Club, biking on our cycle, swimming in our pool, or participating in an exercise class. These types of exercises improve your stamina and reduce your risk of heart attack and stroke.

Strength Exercises
Get strong in our V!VAfit Gym on our Keiser strength machines. Let our Lifestyle Coordinator tailor a safe . strength workout for you, using the resistance equipment that best suits your needs. This is a very important component of any program. As we age, we lose muscle leading to a decline in our muscle-function. These exercises will help you perform all of your daily activities better and with more ease. Simply put - you will be stronger.

Flexibility Exercises
All of our V!VAfit classes and Personal Training Sessions include stretching exercises. We want to keep you moving and moving well. We recognize that everyone's body moves differently so we encourage your best possible range of motion.

Balance Exercises
Join our specific exercise programs that focus on stability. There are many benefits of balance training including better posture and coordination and a significant reduction in your risk of injury.
Wellness 
AMENITIES.
Go for a swim in our indoor heated saltwater pool. Walk with our Pole Walkers Club. Flex some muscle with the latest... Try some flexibility stretching exercises or join our Balance classes.

From swimming in our indoor heated saltwater pool and flexing some muscle with the latest our easy-to-use Keiser fitness equipment to enjoying a relaxing massagefrom a professional message therapist joining a Balance class or Walking Club, our fitness VIVAfit amenities are everything you need to keep fit, reinvigorated and rejuvenated. And if there's something special that gets you moving and motivated, let us know. We can help you organize a dance club, go on a group nature walk… whatever helps you stay healthy automatically becomes our #1 priority!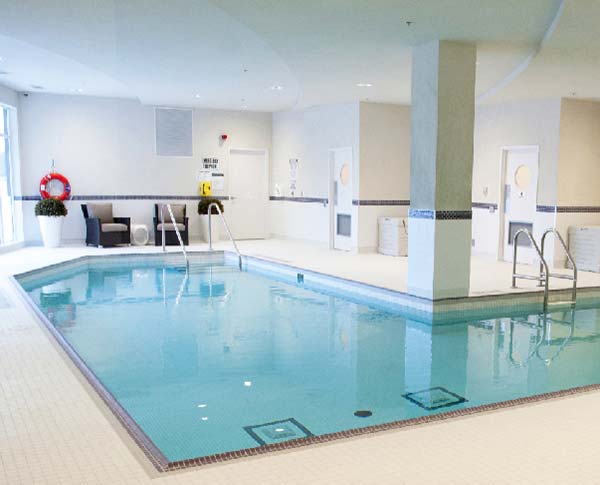 All V!VA Retirement Communities include:
Heated indoor saltwater pool
V!VAfit strength room featuring easy-to-use Keiser fitness equipment designed specially for seniors
V!VAfit stretch room foryoga, Pilates and other flexibility classes such as V!VAcombo and V!VAsit
Walking paths
Massage therapy room
Salon and more
ACTIVE 
LIVING.
From organized events to spontaneous trips to the mall, every day is great because there is simply so much to do! Ultimately, how you spend your day is completely up to you. Here are some of the things our Community Members have recently enjoyed:
Brain Gym featuring computers with internet access, a library of books, puzzles, and games
Healthy living lectures on better senior health practices
Cooking and baking demonstrations
Lectures on historical and current events by local experts
Wine tasting events
Shopping trips to local malls, town centers, and farmer's markets
Visits to the library, horse races, and sports events
Group excursions to museums and art galleries
Whatever puts a smile on your face
V!VAlicious 
DINING.
When you're eating well you're living well... and living well is what we're all about.

A lot of people think healthy food means bland salads, boring boiled vegetables and tiny portions. Well not at VIVA . Everything we make is VIVAlicious, which means equal parts nutritious and delicious. Our Culinary Teams ensure every meal offers enough variety to suit every appetite. Our menus are developed with a certified dietician who specializes in senior health within the parameters of the Canada Food Guide. Plus, when it comes to freshness, VIVAlicious dining can't be beat. We even use fresh herbs, veggies and fruits picked from our own communities' Victory Gardens!
Your V!VAlicious dining experience includes:
Anytime Dining - enjoy our delicious cuisine when you please
Three meals daily: breakfast, lunch, and dinner
Mouth-watering dishes prepared by our professional chefs, proven to satisfy even the fussiest
Table service in the dining room
A wide variety of menu choices including a la carte and chef specials
Quality wine selections available with meals
Gourmet and theme nights
Perks! bistro-café for fresh coffee, snacks, and baked goods all day
A private dining room available to entertain family and friends
And much more!
V!VA
EARTH.
Nothing is more important to our children and grandchildren than the protection of our natural surroundings. That's why we've created VIVAearth -a program to minimize our impact on the environment through green policies and practices.

V!VA Victory Gardens
One of the best ways we can reduce our environmental footprint is to eat locally sourced food. Well, we can't get any more local than a VIVA Victory Garden! These gardens exercise our green thumbs, while the fruits, vegetables and herbs they grow are served at our community's dinner tables, or donated to local food banks and other organizations in the community, and the planters are raised for easier, ache-free gardening.

Composting
Whenever possible, our retirement communities compost to reduce the amount of "green" waste going into landfills, while creating nutrient-rich soil for our Victory Gardens. Imagine that... healthy, delicious dining with a conscience!

Local organic farmer's markets
Farmer's markets are an important part of our commitment to sustainable living. In fact, when we held the Grand Opening of our first Retirement Community, we invited vendors from the local farmers' market to join the celebration. Farmers displayed and sold their fresh produce, while our neighbours and guests enjoyed fresh produce grown in their own backyard.

Recycling Programs
We go that "extra mile" to ensure all areas in our communities are equipped with recycling bins, and all Team Members remain committed to our recycling-first philosophy.
A few other ways we are working towards greener, healthier communities:
Water-efficient landscaping that uses rain barrels to collect water
Low-flow toilets for better water efficiency
On-site Community Children's Daycare playgrounds are constructed with recycled materials for an environmentally-friendly place to play
Carbon monoxide monitoring to ensure indoor environmental quality and safety
Change rooms with showers for all Team Members to encourage the use of bicycle transportation
Scooter storage to promote efficient modes of personal transportation
Convenient access to public transit