"There was no way I was going to move."
Published on December 16, 2022
Let's hear it for Don Turnwell, whose 11th anniversary as a proud Waterside Retirement Community Member was celebrated last week! He spoke with us this afternoon and shared how he chose to call Waterside home all those years ago. His enthusiasm at being part of such an incredible place is contagious – even after over a decade here, his love for the area hasn't faded one bit!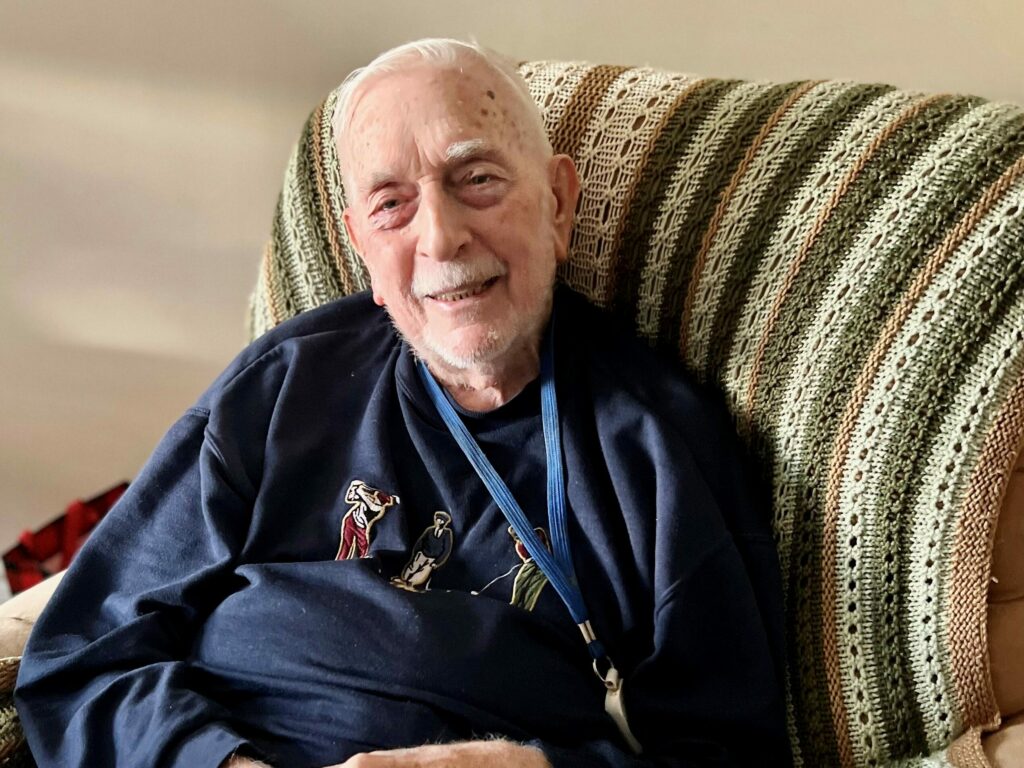 Don Turnwell and his wife moved to Waterside – A VIVA Retirement Community 11 years ago for their retirement, and he is still proud to call this home. When they began their search for a place to settle down, they visited numerous locations but couldn't find one that appealed to them both. "We were living in downtown Ottawa, and we looked at a dozen places, but couldn't find one we both liked. There was always something missing. One had no swimming pool, the other; no gym, or the dining room wasn't appealing at all. We were being fussy because wherever we were to move to, we would be there for rest of our lives."
It was only after his daughter's friend suggested Waterside in Carleton Place that Don decided to take a look – although he had been somewhat skeptical at first. "I listened to what she had to say. But I thought 'Carleton Place. That's a long way out there'" However, one morning, during a game of golf with his daughter at the Canadian Golf and Country Club, she suggested to stop by Waterside and have a look, as it was only 15 minutes away. "It was noon. We peered into the dining room, everybody in there was having a great time. So, we went back to the concierge and asked to have a look around." What started as a quick peek became an impromptu tour. Don and his daughter were quickly won over. "This place looks pretty good," he remembers telling her "but now we've got to convince your mother." Don returned with his wife for another tour.
"Believe it or not, she was sold on the fact that she can go in any time of day and get a coffee. At the end of the tour my wife pointed over to Perks! Café and asked, 'what's that?' I told her it's a place we can enjoy a free coffee. So we went over, and she chatted with another lady in there, she got talking to them and got a coffee and I went to the pub to try out the pool table." By the time Don returned, his wife was won over. After a three-day trial stay, the two of them made the move in December.
Unfortunately, Don's wife passed away the following June, but despite his sadness he has chosen to remain a Waterside Community Member because of how much he loves it. "There was no way I was going to move." Don told us. Instead, he chose to move to a smaller suite. "I've been here ever since. It's a beautiful view, it's perfect for me, just perfect. I would say the whole place is perfect for me, otherwise I wouldn't be here this long. And I've got all the care I need right here, all the companionship I need. I know everybody now, everybody knows me. It's home, all the way, and will always be home."
Thank you Don for making Waterside your home for the past 11 years!
If you're interested in experiencing the Perks! Café that won over Don's wife or would like to shoot some pool in our pub, Paddles!, book a tour now at (613) 253-2010, or email info@thewaterside.ca